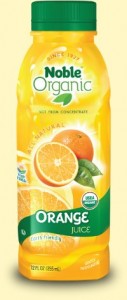 Today I would like to introduce you to the juice company called Noble who has been making 100% natural fruit juices since 1927. Nobel's all-natural juices are artisan-crafted by their fourth-generation family business and they are based out of the great state of Florida.
My Review
: I was sent some coupons to go out and pick up some Noble juices to try out for all of you. I couldn't find them in my local area so I had my auntie pick up a carton for me and bring it up to me via a cooler & ice from Florida when she came to visit last week. I was hoping to try their tangerine juice but she couldn't find it so she brought me their
Organic Orange Juice
to try out.
The Noble Organic Orange Juice is made from organic fruit that is responsibly harvested from the Earth. Drinking organic orange juice is very healthy for you and we should all try to consume more of it because it's full of cancer-fighting antioxidants and Vitamin C.
When it comes to orange juices I am very picky about them as a I like a smooth texture to my orange juice with not big chunks of pulp in it. The Noble Organic Orange Juice is the perfect texture for me and is very smooth! I like drinking my orange juice very cold so I always add a few pieces of ice to it before consuming it. Their orange juice is naturally sweet and had a wonderful taste to it.
My hubby is a bigger orange juice drinker than me and he can drink orange juice all day long but I prefer it only in the morning. Hubby said that this was the BEST orange juice he has ever had! I hope that this brand comes up to central PA. soon so that we can purchase it in the future as we love the Noble brand of orange juice!
I would like to thank Noble Juice for participating in a product review here on the Shakin 'N Bakin Foodie Blog and for sponsoring a giveaway for my readers. We appreciate your generosity and we love your products!
Disclaimer: Shelly Hill has personally reviewed the product listed above. Shelly has not received any monetary compensation for her review. Shelly did receive a free product to try out so she could evaluate and use it for her review. Her thoughts & opinions in this review are unbiased & honest and your opinions may differ. The Shakin N Bakin Blog is not responsible for delivery/shipping of giveaway items won from this blog nor are we responsible for mis-use or injury caused by items won from this Blog. Content on this blog is copyrighted, all rights reserved.