This is a partnered post written by me on behalf of Mrs. Smith's. All opinions are 100% mine.


I love to bake pies and I usually bake at least one homemade pie every week. With that said, there are times that I don't have the time to bake a pie from scratch and during those specific times, I turn to Mrs. Smith's Signature Deep Dish pies. Why you might ask? Well, I am going to tell you!
Mrs. Smith's pies are the best frozen pies you can buy that are on the market (at least in my opinion, they are!). You store them in the freezer and then when you need to bake a pie, take them out, read the instructions and simply pop them into the oven for baking. Once done, you have a delicious pie to serve to your family and there was no mess and no fuss involved!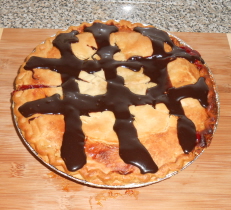 Recently I was asked to review the new Mrs. Smith's Signature Deep Dish Pies for all of you. All 4 of the flavors I reviewed, were new ones to me! I was sent coupons to go to my local store to pick them up and I selected the following 4 pies for our review:
* Mrs. Smith's Signature Deep Dish Cherry Pie with Butter Fudge Sauce
* Mrs. Smith's Signature Deep Dish Peach Pie with Cream Cheese Icing
* Mrs. Smith's Signature Deep Dish Dutch Apple Pie with Caramel Sauce
* Mrs. Smith's Signature Deep Dish Pumpkin Pie with Cream Cheese Icing
These pies are made with real butter (no fake stuff) to create their flaky crusts and they are stuffed to the brim with real fruits! The pies come with icing or sauce packets that you put onto them after they are done baking to create your own unique customized looking pie! How fun is that? Totally fun!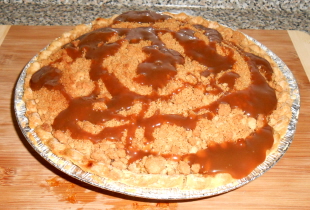 I decided to invite my 2 nephews and 1 niece over for some pie baking fun and after our pies were done baking and cooling, I left them use the icing and sauce packets to make their own customized pies! This is a great way to get kids in the kitchen for sure! They had a blast doing this!
We had 7 adults and 3 children here and we loved all 4 pies. With that said, some we liked a little more than others. In the future, I would skip adding the cream cheese icing to the pumpkin pie as it was a tad too sweet with that addition on top...for us! However, you might like your pies sweet so that would be cool for you!
These pies took 50 to 75 minutes to bake in the oven and while they were baking, my entire house smelled like a gourmet bakery! I love how easy they were to make and my family loved eating them!
Disclosure
: The makers of Mrs. Smith's Deep Dish Signature Pies provided me with the review items and prize pack products.