This is a Sponsored post written by me on behalf of P.F. Chang's for SocialSpark. All opinions are 100% mine.
When it comes fo fabulous asian food, there is nothing like P.F. Chang's. This national chain offers an amazing menu that will satisfy everyone. With fall in full swing, they have updated their menu with a new Fall Seasonal Menu that offers some tasty choices. Check out these additions!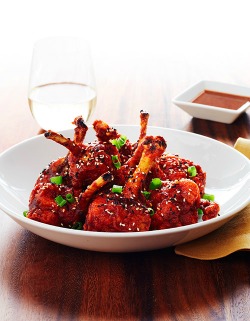 *Ginger Jalapeno Mule and Apple Cinnamon Martini
*Pumpkin Dessert Wontons
*Apple Cinnamon Martini
*Apple Dessert Wontons
*Shanghai Waldorf Salad
*Crispy Korean Chicken Wings
*Miso Chicken
*Harvest Vegetable Quinoa "Fried Rice"
*Vietnamese Noodles with Steak & Shrimp
*Citrus Mustard Prawns
I love the new selection and have spied several that I know I will have to sample when we visit our local resturant. I love Korean Chicken Wings and I think that these are on the top of my list. The Miso Chicken would make an awesome main course. And who could ass up Apple CInnamon Wontons? Oh my!
To celebrate P.F. Changs new menu, they are also hosting The Goodness of Fall Contest that you can enter! The contestants create at least 3 unique fall dishes highlighting 3 of the seasonal ingredients that are used on the new Fall Seasonal Menu. The top 5 recipes will then be submitted to a panel of judges for a chance to win the grand prize!
So who are those panelists? They include: Philip Chiang, Cofounder of P.F. Chang's; Yuji Iwasa, Head Development Chef at P.F. Chang's; Mary Melton, Director of Beverage at P.F. Chang's; and Jennifer Chong; a prominent blogger partner.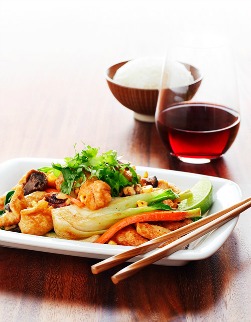 Prizes include: a $50 daily P.F. Chang's gift card winner; The grand prize winner and one lucky guest will win a two-night trip to Napa in Spring of 2014, including an exclusive visit to the guest house at a Napa Valley vineyard where judges Philip Chiang and Yuji Iwasa will be cooking some of their favorite dishes. Director of Beverage Mary Melton will also be there, guiding the winners through an extensive wine tasting. It's a once-in-a-lifetime Napa Valley getaway! How awesome would that be?
Put P.F.Chang's on your list of resturants to check out this month and give their new menu additions a try! Which one sounds the best to you? Plus check out the contest page that offers a printable $10 off $40 special offer! Find your favorite dish and create your own fall favroite recipe and submit it to their contest too. You could be the Grand Prize winner!
Asian Flank Steak with Brussel Sprouts and Broccoli
Serves 4 - prep time 10 minutes - cook time 7 minutes
1 lb. Flank Steak cut into 1 in pieces
½ lb. Brussel Sprouts
½ lb. Broccoli – Chinese if available
½ lb. Bean Sprouts
½ lb. Mushrooms – Asian if available
2 stocks of Celery – chopped
2 Scallions – sliced
¼ c. Oil or Garlic Oil
½ c. Soy Sauce
2 tbsp. Apple Cider Vinegar
¼ c. Water
2 tbsp. Sesame Oil
1 tsp. Ginger
2 tbsp. Minced Garlic
1 tsp. Red Pepper Flakes
¼ c. Corn Starch
In a glass measuring cup, measure out your soy sauce, add vinegar, water, sesame oil, ginger, garlic, red pepper and mix in the corn starch. Whisk together and set aside.
In a wok style pan, set it on high heat and add the oil. Once the oil and pan is hot, add the meat and continue to stir it until it is browned and about half way cooked through – about 3-4 minutes. Remove it from the pan and set aside. Add all of the veggies and your sauce (whisk again before adding) into the pan and stir frequently to cook through. Once the veggies are almost tender, add the meat back into the pan and combine everything together. Let simmer for a minute or two.
Serve with rice and additional soy sauce.
Follow @pfchangs on Twiter and Follow P.F. Chang's on Pinterest to find our more about their new menu. Share which one you have tried or would like to try.