This post brought to you by Boar's Head Brand. All opinions are 100% mine.
We are a big lunch meat family. My husband packs a lunch 3 out of 5 days a week for work and I enjoy a good sandwich time to time myself. With that said, we quickly become board with just the standard old sandwich and often look for new recipes and sandwich ideas.

Did you know about the Boar's Head Boldest Bracket Challenge that is going on right now? It is going on in conjunction with March Madness. I love it when companies tie in their promotions around current events. Don't you? Always so much fun!

The new Boar's Head line of products include the new Blackened Turkey and the new Horseradish Cheddar Cheese for a truly unique flavor adventure! Don't they sound good? Yes, they do! The new line of premium meats were inspired by exotic destinations from around the world. A flavor adventure for us all!

Check out all of these yummy selections below:

Blackened Oven Roasted Turkey Breast
Chipotle Chicken Breast
Jerk Turkey® Breast
NEW Horseradish Cheddar Cheese
3 Pepper Colby Jack® Cheese
Chipotle Gouda Cheese
Fiery Chipotle Gourmaise™

Boar's Head has the Boldest Bracket Challenge going on right now where fans can vote on their favorite sandwich for a chance to win some awesome prizes!!! Plus, just checking it out and voting will give you some new ideas on what kind of sandwiches you can make to spice up your lunchtime meal too! They will be giving away things like t-shirts, Boar's Head products and a grand prize of an iPad and a gift card! Cool!!!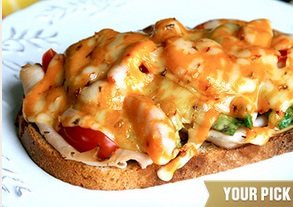 I went over to check it all out and I voted for the Spicy Jerk Turkey Melts which really look delicious! They all looked good, but that one really tempted my taste buds! Doesn't that look delicious? I love anything Colby Jack cheese!!!
I would love to invite you to participate and vote too! It only takes a minute and you might just win some awesome prizes for participating. You can grab all of the information from their site and you will want to head on over to
Facebook
to see all of the participants and vote on your favorite. Leave me a comment below telling me which one you voted for and why! I would love to know!